Choosing to get a new website design is no simple decision. That's why I've put together this list of the burning web design questions you might have before taking the leap.
I design websites for a living, so you bet I've received my fair share of obscure questions and client requests over the years.
For example, I once had a client invite me over to his house so I could show him how to change a button link. I mean, I'm all about educating my clients but… sorry, come again?
But I digress. I'm here to answer these questions for creatives like you, who are curious about getting a new website design… but have no idea where to start.
Here's what we'll be covering in this blog post:
The most common web design questions
The most common questions I receive as a website designer range from "what website platform should I choose?" to "how much does a new website cost?" I'm sure these questions are on your mind, too.
→ How do you know when you need a new website design?
Firstly, there are a number of signs that can tell you it's time for a new website design. The most obvious signs tend to be:
Your website doesn't reflect your brand or business
Something is broken or not functioning on your website
You have no idea how to use your website (this one is huge!)
Your current website is not achieving your business goals
In my experience, most clients come to me when they've outgrown their website.
Maybe they chose to DIY and now they want something more professional. Perhaps they feel embarrassed when sending someone to their website.
Whatever the reason for wanting a new site, your business deserves to thrive. Your website is one piece of the puzzle, and it's worth exploring if you want to grow your business.
→ What do you need to start a website?
Starting a website can seem like a daunting task. That said, it doesn't have to be a complicated experience. Here's a short list of what you need to start a website:
⋆ Choose a domain name
Before deciding to create a website, you should have a domain name in mind. While it doesn't have to be perfect, your website name should be unique, easy to remember, and relevant to your business.
⋆ Find the right website platform for you
This is the million-dollar question, isn't it? That said, I'm a huge fan of WordPress! All of my website designs are built on the self-hosted version, which can be monetized and customized to your liking. Below, I go even deeper into the platform debate.
⋆ Purchase reliable web hosting
As mentioned above, I recommend using the self-hosted version of WordPress for your website. To me, it's a no-brainer, because you can create without bounds. However, you will need to pay for hosting (AKA your monthly rent). I highly recommend using Siteground for your hosting needs.
→ Which website platform should you choose?
You're probably not going to like this answer but… it depends. The right website design platform for you will depend on what you're hoping to achieve for your business. Let's break down some of the popular choices:
⋆ WordPress
I might be biased but WordPress is the GOAT! No website platform does it better than the self-hosted version of WordPress. You can have a custom website design, powerful blog, excellent SEO, and everything in between. In my professional opinion, WordPress is the gold standard of web design.
Fun fact: I design websites exclusively with WordPress!
⋆ Squarespace
One of the top contenders, without a doubt. Squarespace is a nice starting point if you run a simple service-based business and you don't mind using a template approach. That said, it can be tricky to customize. For a template-based platform, you actually need to know quite a bit of code.
⋆ Shopify
Simply put, Shopify is built for shopping! This platform is amazing if you run a product-based business that focuses on selling tangible goods. That said, you can also create a powerful shop on WordPress. My chosen approach? Keep your main site on WordPress & link to your Shopify storefront. Win win.
⋆ Showit
With its canvas approach, you can create literally anything on Showit! This is great when you know what you're doing. But it can get "kindergarten art project" pretty quick. Plenty of web designers are making the switch to Showit, but I'm not one of them. Why switch platforms when I already create easy-to-use and wildly unique websites for my clients? Choices, right.
⋆ Wix or Weebly
In case you're wondering, *I do not recommend* using Wix or Weebly. While a "website in a box" seems great from the outside, it can be a nightmare if you ever wish to leave. Do yourself a favor and… don't.
Web design questions about the process
→ What is the web design process like?
For me, I've created a seamless process where my clients can easily send ideas, see designs, and share feedback in a way that just makes sense.
I won't use industry jargon or chastise you for not knowing specific design terms. In other words, I won't treat you like a design school project. So, why don't we break down my signature web design process:
⋆ Discover
We'll meet for a strategy session to discuss your brand and website goals. From there, I'll create a brand style guide (complete with mood board, color palette & fonts) to match your brand.
⋆ Design & Refine
I'll get started on creating the custom designs for your website, starting with your home page. Then, I'll send a mockup + a video walkthrough of the design for your feedback. We'll rinse and repeat the process until we've created the website in full.
⋆ Deliver
Once we're ready to move forward, I'll optimize your website for mobile devices. Then, we'll get ready to transfer your brand new design to your domain! You just sit back and let me do the heavy lifting.
→ How long does the website design process take?
While timeline varies between size and scope of a project, the average timeline for my website design projects is 6-7 weeks. This process allows time for branding, refinement rounds, and the transfer of designs to your domain.
→ How much does web design cost?
The question on everyone's minds! While it can be scary to invest in a project like website design, your website is often the #1 marketing asset for business growth. With that in mind, let's consider one thing…
If you think good design is expensive, you should look at the cost of bad design.

– Some wise designer
Cutting corners can end up resulting in even more sunk costs for your business. In other words, you'll never get that time back. When you choose to DIY or work with an inexperienced designer, you may end up paying more down the line to fix the mistakes.
While I can't speak for another designer's pricing model, mine is simple. I offer a signature web design package based on a flat rate. The average investment level for website design projects is between $6-8K USD.
→ What do you look for in a website designer?
I cannot stress this enough: don't let pricing be the only decision maker when it comes to choosing a web designer. It's equally important for you to find a professional who aligns with your vision and personality.
Furthermore, trust is a huge piece of working with any freelancer. You'll need to give your designer unfiltered access to your business. As such, you should trust that they have the skill to handle your project with care.
Ask yourself these questions before hiring a website designer:
Can you picture yourself having a website like their design porftolio?
Have they worked with similar creators in your industry?
Would a past client recommend them/do they have testimonials?
When you met, did you like their personality style?
Technical web design questions
→ Will your new website design increase speed?
Here's the thing. A new website design will change the entire structure of your website, including its code, theme, and framework. Especially if you are switching from DIY/template to a designer!
That said, the "need for speed" runs deeper than your website alone. If you have a basic website design, it might actually be lightning fast. Why? Because there's nothing exciting on it, lol.
In contrast, once you start adding more features and images to your website, this alone can vastly slow down your site speed.
But what if you're a photographer? Website optimization can be a balancing act. That's why I always aim to design with speed in mind… without compromising gorgeous imagery.
Beyond that, I recommend going through a technical speed audit after design. It takes a different skill entirely, but I've hired this out myself with excellent results!
→ Does your new website design improve SEO?
I hate to break it to you but there's soooo much involved in the world of Search Engine Optimization (SEO) that it cannot be simplified in one answer. While a new website design can improve your SEO, it's going to take more than a website alone to rank #1 on Google.
Have you ever wondered why every food blog talks about ten million other topics before getting to the recipe? Does anyone really need to know the answer to "what is rice?" 🤔 Yes, Google does.
SEO success comes down to a few key factors, with the biggest emphasis falling on your content. The more in-depth, relevant, and focused your content is, the better your chances at pleasing the SEO gods.
Full disclosure: that's why I wrote this huge-ass blog post instead of creating a PDF download. My website is quick as grease lightning, but I still need to please the SEO gods.
→ Do you need to know how to code to use your new website?
Finally, a question that lights me up! The answer is simple: nope. Long gone are the days where you need to be a rocket scientist to use a website.
I would never expect a client to know how to code. In fact, it's my mission to make custom websites that are unique, stunning, and easy to use.
I want it to be simple for you to pop in, swap images, create content, and find your way around the backend without getting lost.
Still feeling a bit nervous? I get it. That's why I also provide every client with training guides and a private video tutorial library.
Who knows, maybe it's not the best for profit… but most of my clients feel confident enough to take care of their own websites after I'm done with the design 😉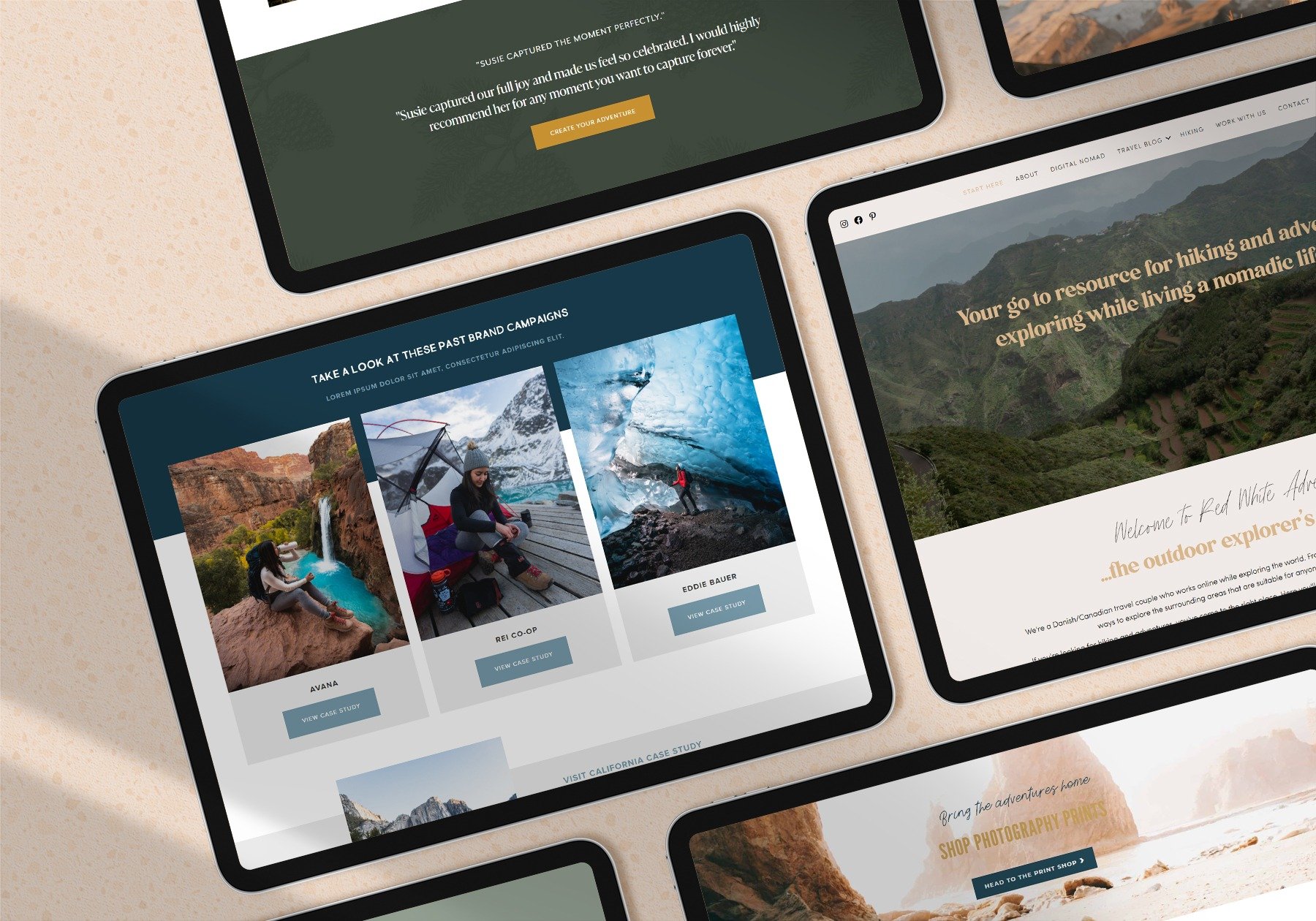 Got any more questions about web design?