If you are curious about pursuing a career in adventure photography and growing the business side of things, I've got you covered.
Before pivoting into designing adventurous websites, I ran an outdoor adventure community on Instagram for over 7 years. Since then, I've helped dozens of adventure photographers grow their personal brands into lasting businesses.
Now I'm here to share my wisdom so you can take your passion full-time!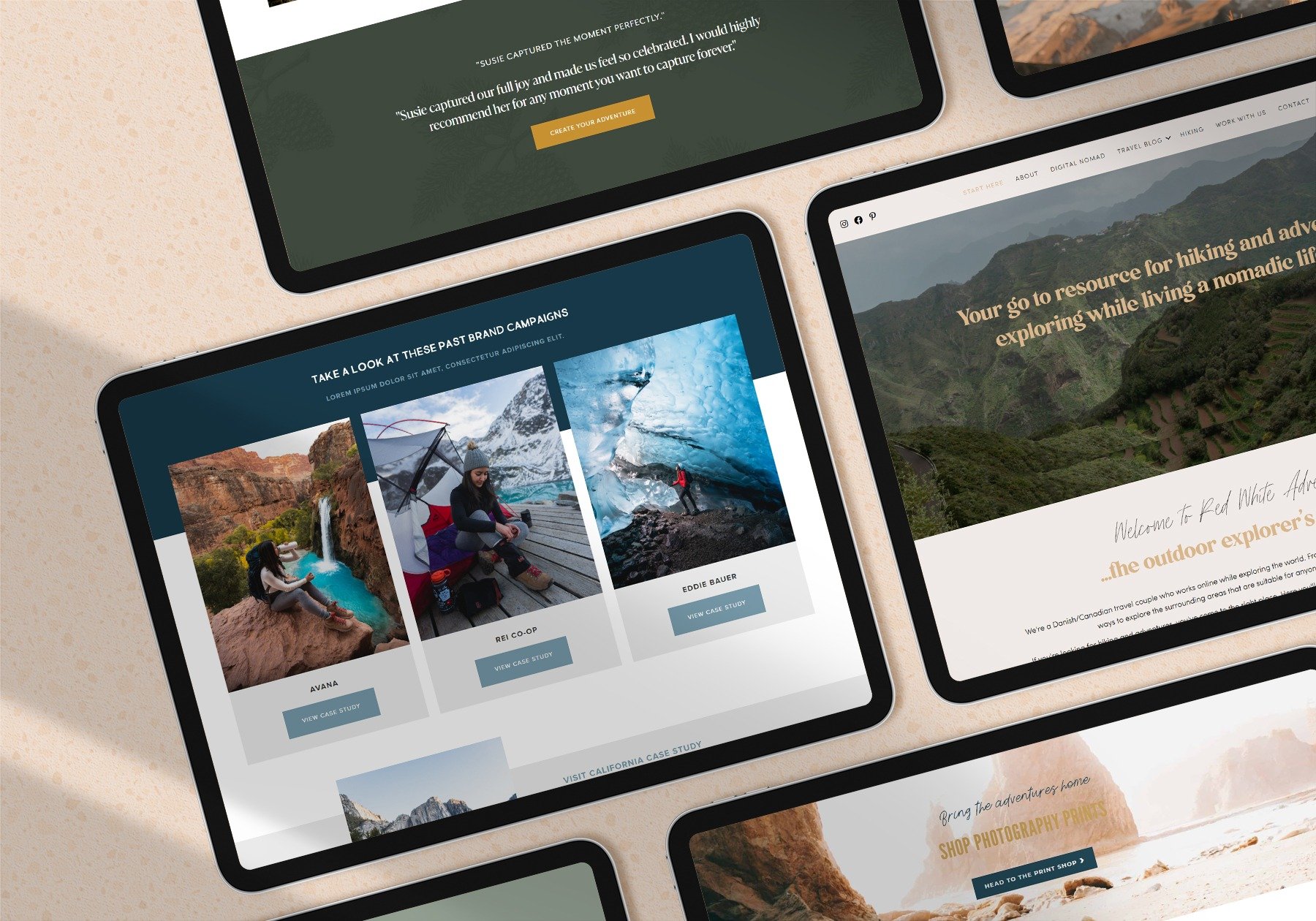 What is adventure photography?
Adventure photography is a type of photography that focuses on sharing a love of the outdoors, nature, travel, wildlife, and sports. Typically, this type of photography can include a focus on hiking, backpacking, traveling, road-tripping, and exploring National Parks.
Types of adventure photography:
You don't have to go on multi-day backpacking treks to identify as an adventure photographer. On the contrary, adventure can include everything from capturing elopements to taking photos of the night sky.
In fact, many photographers choose to brand their businesses under the umbrella of "adventure" even if they simply take photos outside! Adventure is what you make of it.
Regardless, here are some typical options to consider when pursuing a career as an adventure photographer:
Elopement photography
Wedding photography
Travel photography
Nature and wildlife
Outdoor recreation
Action sports (surfing, climbing, hiking)
How to get started with adventure photography
Find an activity you love doing
This goes without saying, but you need to be passionate about adventure if you hope to be an adventure photographer. Whether you are into mountain biking or backpacking, get outside and start honing your craft.
The most important part about becoming a successful adventure photographer is chasing your passion. Without an obsession for adventure and photography, you'll never make it in this industry.
Practice your photography skills
Bring your camera along for the ride! If you are just getting started, you might not have a full camera setup just yet. That's totally okay. Start taking photos of your adventures with your phone.
If you've been dabbling in photography for a while, consider upgrading your camera gear to more professional quality.
For instance, if you are lugging around heavy camera equipment on multi-day backpacking trips, it might be time to invest in a lighter mirrorless camera.
Learn from established adventure photographers
What better way to learn the ins and outs of the adventure photography industry than from the pros? One of the best ways to gain skills is to pursue education from reputable sources.
Check out these resources for growing your adventure photography business:
Establish a unique photography style
One of the simplest ways to stand out as an adventure photographer is to create a signature photography style! For example, you can establish a unique editing style, use photography presets, and try your hand at different photography techniques (like using a drone or taking self-timer shots).
Grow your audience online
By far, the easiest way to get started is by sharing your photos on social media or your blog. The lowest barrier to entry is Instagram or TikTok. That said, starting a blog does not have to be complicated either.
Curious about what goes into a strategic website design? Check out this blog post!
Reach out to adventure brands for collaborations
It's never too early to start reaching out to brands. If you provide a unique perspective and point of view for your audience, you have a valuable skill set to offer!
How to make money as an adventure photographer?
Adventure photographers make money in many different ways. In fact, my clients The Lovers Passport have over 10 income streams for their growing business! What started for them as a side gig during the pandemic has grown into a scalable business.
Examples of monetization methods for your adventurous business:
Content creation
Brand sponsorships
Affiliate marketing
Digital products
Photo image licensing
Photography services (weddings, elopements, etc.)
Group trip packages
Photography workshops
Online courses
Website advertising (this is typically a long-term goal once you have enough traffic)
As you can see, there are many different methods for making money as an adventure photographer!
Tips for creating a signature adventure brand
Get clear on your target audience
Branding begins when you identify your ideal audience. Who are you here to help? How do you help solve their pain points? What groups of people are you hoping to target with your photography services?
One quick way to identify your target audience is by creating an "I help" statement.
For example, "I help tourism boards showcase their city's unique attractions by creating captivating content that inspires folks to book their trip."
In this case, the target audience is tourism boards where you will be pitching your adventure photography services.
This method can also work for adventure elopement or wedding photographers, too!
For example, "I help adventurous couples capture timeless memories of their big day by taking stunning photographs that will last a lifetime." In this case, the target audience is adventurous couples!
Once you have established your target audience, you can tailor your branding (including brand voice, brand aesthetic, and more) to what this ideal person would expect from your business.
Not sure where to begin with your branding? Let's chat about brand strategy!
Establish your brand personality
Every business has a distinguishable brand "personality" that matches its tone and voice. For most adventure photographers, the easiest way to begin is by mimicking your own personality. This is called personal branding as it places your personality at the forefront.
If you are a naturally energetic and casual person, your brand will take on a friendly and lively personality. These key traits will be reflected in the way you write, how you engage with your audience, and what your clients will expect from you.
But what if you wish to build a brand separate from yourself? You can dive deeper into your brand's unique personality and perspective!
Questions to help identify your brand personality:
How do I want my audience to feel when they encounter my brand?
If my brand were a travel destination, where would it be and why?
How would a friend describe my brand?
Do I want to come across as formal or casual? Cheeky or matter-of-fact? Polished or relatable?
Create a signature brand aesthetic
The next step to building an established brand is to create a signature brand aesthetic! In other words, what is the visual representation of your brand?
For many of my adventure photography clients, branding is one of the hardest pieces to nail down for their business. While you may have a "vision" for your brand, you may not know how to put it together into a cohesive picture.
Furthermore, you may struggle with finding the right elements for your brand. For instance, how do you know which colors work best together? Where do you find fonts that are unique (and not overused in Canva?)
As the market expands and more aspiring adventure photographers enter the industry, you need to be willing to stand out from the crowd. How do you do that? By taking an objective view of your competition and creating a brand that is uniquely yours!
How I can help you create a brand identity:
Identify your brand personality and adjectives
Pull brand inspiration into a mood board
Create a cohesive (and unique!) color palette
Find fonts that pair with your brand identity
Put it all together into a Brand Guidelines document!
Not sure how to make something tangible with your brand vision? Get in touch!
Adventure photography websites
Adventure blog examples
The Mandagies is an outdoor adventure blog with a focus on the Pacific Northwest. They provide in-depth itineraries and travel guides for exploring the great outdoors.
Angela Liggs is an outdoor adventure photographer based in Vancouver, British Columbia. Between viral social media content and out-of-this-world photography skills, you'll be sure to find inspiration on her blog.
Adventure elopement photography examples
Wisehart Photography is an adventure elopement photographer and wedding photographer based in Washington State.
Indy Hunjan Photography is an adventure elopement photographer based in Vancouver, British Columbia.
Adventure content creation examples
The Happiness Function is an outdoor recreation blog celebrating the USA. From gear reviews to camping hacks, you'll find everything about the outdoors on this adventure blog!
Suzi on the Move is a travel content creation website that provides travel and adventure itineraries, hiking guides, and accommodation tips for outdoor enthusiasts
Travel planner website examples
Where to Find Me is a luxury travel blog focused on providing honest reviews of the most unique & boutique hotels for modern travelers.
The Traveling Empty Nester is a travel planner who specializes in planning trips for empty nesters and solo travelers.
Ready to make your own adventure photography website?
You're in the right place. I specialize in creating unique and strategic website designs for adventure photographers, travel planners, and content creators. Check out my services here!